Status Reports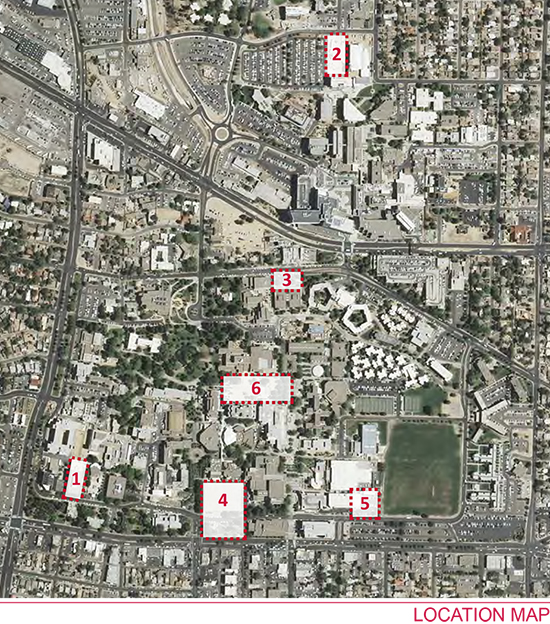 MAP KEY LEGEND
Farris Engineering Center Renovation

Health Education Building III Addition/New Facility

McKinnon Center for Management at ASM New Facility

Physics and Astronomy, Interdisciplinary Sciences (PAIS) New Facility

Johnson Center Expansion & Renewal

Smith Plaza & Union Square Renovation & Infrastructure Improvements
---
Farris Engineering Center
Renovation
The Farris Engineering Center Renovation provides for a comprehensive renovation of the existing 67,319 gross square feet (GSF) and provides an additional 9,959 GSF to house Computer Science, Chemical and Biological Engineering and Nuclear Engineering programs. The renovation includes offices, computational (dry) laboratories, computer research rooms, administrative suites and student study and event areas and the build out of the basement shell space in Centennial Engineering to house wet labs.
Health Education Building, Phase III
Addition/ New Facility
The Health Education Building, Phase III is the final phase of the Health Education Building for the Health Sciences Center. This final phase is 76,445 GSF, 3-story addition connecting to the existing building. The third phase includes ten classrooms of varying capacities; Active Learning Classrooms with advanced technology provide venues for nursing, pharmacy and medicine classes. The Interprofessional Healthcare Simulation Center is augmented with twenty seminar/tutorial classrooms containing an exam table and existing procedure rooms will be modified to address nursing's need for additional assessment and practice sites.
McKinnon Center for Management at ASM
New Facility
The replacement for the Anderson School of Management will be 57,285 GSF of classrooms, class labs, faculty and staff offices, supports spaces and student services spaces. An important component of the program is to provide student support spaces such as group study rooms, student-gathering areas, and student organization space. There will be a new Advisement and Career Center that provides a major point of contact for students.
Physics & Astronomy, Interdisciplinary Science (PAIS)
Renovation
The Physics & Astronomy, Interdisciplinary Science (PAIS) project is one of new construction. PAIS will include approximately 137,000 (GSF). The project will include upper division class labs; general classrooms and resource areas; faculty, graduate student and staff offices; and research spaces, including computer, medium intensity (astronomy, subatomic and biological physics), and high intensity (optics and surface physics) labs; as well as shop and limited chemical and radiological materials storage.
Johnson Center
Expansion & Renewal
The Johnson Center Renewal will primarily impact the southeast corner of the building. It will carve a wide circulation path east and west of the building, improving users' wayfinding and connecting Cornell Mall at the west end to Johnson Field at the east end. This strategy provides opportunities for greater utility of the facility and the site with event and activity plazas at both entry points
Smith Plaza / Union Square
Renovation, Infrastructure Improvement
Comprehensive planning, design and construction of Smith Plaza and associated exterior spaces to provide a safe and accessible 'great room' with greater functionality in the heart of the campus. The plaza, stairs and ramps are deteriorated and require total removal, redesign and reconstruction. Entrances to the plaza including stairs and ramps require total removal, redesign and reconstruction.